Ethos
At NyouLearning, in everything we do, we believe in the infinite potential of e-learning, challenging conventional teaching techniques, and making high-quality teaching accessible to all.
NyouLearning is a full-service custom e-learning solutions company. We design and digitise online courses tailored to your content, then deliver and manage your courses on our user-friendly learner management system.
Check out one of our sample courses, or book a free consultation. 
Creating custom online courses using proven learning techniques, turning your ideas into high-quality online programmes.
Nyou will digitise your existing training material and optimise it for an online audience.
Your full-service learner management system. We manage your onboarding, hosting, delivery, and reporting.
We facilitate the sales and marketing of your online course. We do what we do best so that you can too.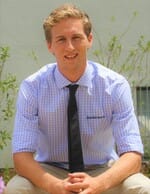 Welcome to NyouLearning!
I'm excited that you're interested in our company, and I can't wait to see the interesting content you bring to the table.
As someone who has lived with a learning disability like dyslexia, I've always had an acute awareness of the many inadequacies of the traditional education system. Not only does it fail to adapt to the diverse needs of different people, but it's also based on outdated teaching techniques that have since been disproven by modern educational science. Especially in today's virtual world, there is massive potential in the online market to overhaul the education system and remedy it with new knowledge on how the human mind learns.
In 2014, I co-founded Stellietech, an online education and vocational training company. Stellietech uses a combination of digital and trainer-facilitated learning to upskill South Africans, empowering and building the country's workforce. Six years later, Stellietech operates training centers in Stellenbosch and Cape Town and has facilitated training for over 2600 clients. Over the years, I've been shocked to see the poor quality of training courses that are used widely around the world. This is why Nyou was born, to transition my EdTech experience from the course facilitation to the course creation sphere and dedicate my career to producing high quality e-learning courseware on a global scale and getting high-quality research backed training accessible to all.
News24 recently named me one of South Africa's top 6 entrepreneurs disrupting their way to success. I'm looking forward to bringing that passion to Nyou and bringing your ideas to life.
– Dylan Evans
– A proudly South African company, serving a global clientele –