Here you will find a list of the freely accessible simulations created by NyouLearning. If you're interested in us creating a simulation for you, please contact us at info@nyoulearning.com.
In this simulation you take on the role of a salesman and try to convince a branch manager to purchase your product. There are lot of branches, with varied responses for each choice.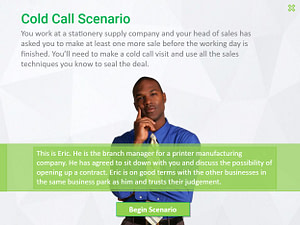 This simulation is split into three different scenarios. In each, you are applying for a job a specific company and need to perform in the interview to get the job. Three companies are Pick n Pay, Adidas, and Google.
Creating a Google account
In this software simulation, you go through the steps of creating a Google account. Users need to interact with the simulation as it were a live website.